You may have noticed an unusual orange fruit in your child's book bag this week. You may even have asked, "what is this?"
Originally from Asia, and morphologically considered a berry, the persimmon is a lovely fruit that matures to a deep orange color in late Autumn. If you've ever visited Greensboro Montessori School's Primary Garden, you've probably noticed our beloved persimmon tree, planted over 20 years ago by master permaculturalist, Charlie Headington. In the years since, this tree has been lovingly pruned and harvested by our favorite garden coordinator, car line greeter facilities assistant, and student support pal, Aubrey Cupit.
Generations of GMS students share a collective nostalgia for the flavor of the persimmon. To them, it seems a rare, exotic fruit with notes of magic and pure joy only attainable from our grounds. Students begin asking for persimmon snacks in our Environmental Education classes on the very first day of school, and then every subsequent day until we cut into the first ripe persimmon in October. It would be difficult to adequately describe the infectious wave of excitement when our students find out we are having persimmons for snack.
A firm persimmon tastes like a combination of honey, peach, and mango, with earthy undertones and the texture of an apple. For those unfamiliar with this fruit, I would recommend eating it raw, just like an apple, skin and all. Others prefer to bake softer persimmon pulp into pancakes, bread, or cookies. Persimmons work well in savory applications such as persimmon vinaigrette and other meat-based dishes akin to pork and apples. Dehydrated persimmon pulp creates a delicious fruit leather, while dehydrated persimmon slices make an excellent snack.
Each of the five persimmon trees on campus have produced bountiful fruit this season! In an effort to share the persimmon love, we're sending at least one persimmon home with every single student within our GMS community. Enjoy!
---
Additional Resources
---
About the Author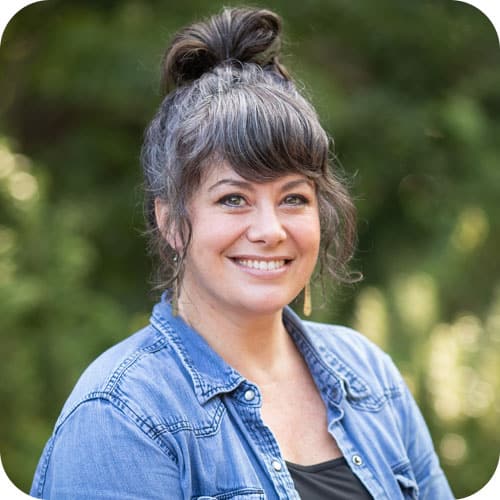 Chelsi Crawford is Greensboro Montessori School's lead environmental educator. Prior to joining our School in 2018, Chelsi was the assistant farm manager for Clemson University's sustainable agriculture program. In this role, Chelsi assisted with all farm duties pertaining to planning, food production, and harvest, in addition to managing a community supported agriculture (CSA) farm share program providing fresh produce for over 100 families weekly. Chelsi received both her Bachelor of Arts in anthropology (with a minor in biology) and her Master of Science in natural resources from North Carolina State University. She also has a published journal article focused on educational resources and dissemination of information to organic farmers throughout North Carolina.